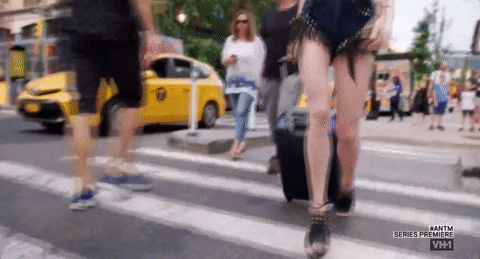 New York Fashion Week is one of my favorite times out of the year. Although everyone in the fashion industry is most likely stressed out of their minds, the pay off is fabulous. The streets and the runways are filled with beautiful people in show-stopping outfits, hair, and makeup.
NYFW is a huge week, and ideally, I would like to update you all on every moment that fashion week showcases, but doing that alone would be nearly impossible. This week/weekend, I'm hoping to update you guys on what I'm seeing on some of the designers' runways and the trends that I'm seeing across the board, with a few scattered posts. Some short. Some long.
So let's just get into it.
Nicholas K
Nicholas K seems to be the dark collection of today's grouping. With black leather pieces worn by mainly brunette models sporting a dark berry lip, it's easy to see the edgy vibe the designer is forecasting for the collection this year. Interesting enough though, as the show went on, vanilla tones replaced the dark ones on the runway. Then the show faded into colors of fall--dark purple, grey, and even deep olive green.
Nicholas K didn't seem to have any trend of patterns, but leather, fur, and velvet were definitely some of the main textures the designer played with.
Overall, it was an absoutely stunning collection and I loved the models' slick and neat updos.
BCBGMaxazria
BCBGMaxazria started off the show with gorgeous neutrals, such as grey and vanilla/white, paired with the most royal shade of navy blue. Everything looked so soft and thoughtfully made. The style of the collection definitely seemed to be contemporary. All of the models were beautiful and had this "undone" look about them, while still looking put together.
BCBG focuses mostly on neutrals in the collection as well, but did dip into our common fall colors too--especially Marsala and a bit of dark blue. BCBG seemed to really focus on textures as well, but stripes and minimal color-blocking was very prominent as well. At times, the collection had an almost nautical feel to it, but was balanced out by furs and other contemporary prints.
This collection is one of my favorites that I've seen so far and the models really gave the looks a laid-back feeling.
KYE
I'll be honest, before today, I had not really heard much about this designer and I don't feel like I was missing out on a whole lot. One of the things that bothered me most about this collection was the models' hair. It was literally in their faces, and had random braids throughout. It didn't look good at all in my opinion, and it really distracted from the clothing.
The trends seen from this designer were mostly in the blue range--meaning that a lot of the collection featured royal blue. This is a positive for me. Royal blue is such a misrepresented color and the designer did a great way of showing the versatility of it. I was a little confused by how often a "retro t-shirt" appeared in the designer's looks, but to each their own. This collection isn't my style at all, but for the more grunge-loving fashionista, it might be more favored.
Shiny satins and particular plaids were full-on trends for this designer, as well as a killer inner-eye highlight for the models. It really made them look wide awake despite their overly messy hair.
Marissa Webb
This was totally my favorite collection today. It was the only collection that had me saying "I would wear that!" about nearly every outfit. The collection itself was very feminine, polished, and chic. The designer really pushed floral prints, plaid, and neautrals with these looks and it definitely worked in her favor.
Furs and linens seemed to be some of the fabrics this designer focused on the most for this collection, giving off a breathable and trendy vibe. The high necklines in some of the designs made the collection look so much more chic, especially with the detailed pleating on some pieces.
One of the aspects that I really believed helped this collection out was the models. The models seemed happy, though expressionless for the most part. Their hair was neat and their makeup was perfect for everyday. It was just the ideal collection for your typical everyday woman; whether she would be going to work, out with friends, or just living life day-to-day.
Disigual
This designer really hit the nail on the head with this collection. I felt like this show was a real show, mainly because the models actually paid attention to the audience and smiled at them. I know traditionally models don't smile on the runway, but my gosh, it was darling for this collection.
The collection had pieces that sported vibrant earthy tones that actually made me excited for fall. From pine green to a fushia berry, this collection nailed it on color selection. Usually I don't love mustard-tones, but this designer put just enough in to the pieces where it stood out, but didn't look tacky.
Florals, plaids, and abstract patterns were a define trend amoung this designer. From tights to clean-cut jackets, it is clear that the designer wants these patterns to make a statement with every outfit. The designer also intregrated sparkles into the designs, without it looking like your younger sibling found your old BeDazzler. It was so tastefully done; I can't wait to see the modified designs in store.