Hey Millennials, Have You Seen This New Makeup Line?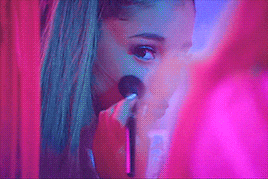 Yes. A new makeup line that is aimed right at you. Or should I say "us" since I'm a Millennial too?
As many of you know, Estée Lauder is a wonderful, wonderful cosmetics company. They probably own majority of the ones you already love too (Smashbox, Clinique, Glamglow, Bumble & Bumble, etc)! Well, now they've launched something new, blue, and totally you: The Estée Edit.
The Estée Edit has two faces to their line that you may know (of course you do): model and social media guru, Kendall Jenner, and fashion blogger/it girl, Irene Kim.
I actually just learned about this collection today...4 hours ago when I walked into Sephora.
I found it ironic because I really felt like a true Millennial when I found it. I thought I had discovered something new, like a hidden gem, and I knew I had to tell everyone about it ASAP. So here I am, typing my newfound knowledge for you all.
So now that you know a little bit of information about the line (knowledge is key guys), let me tell you about some of the products. I didn't end up buying any of them today, but there's a few I might be going back for soon.
When I walked into Sephora, I saw this beautiful silver, white, and bright blue display. Totally chic. Totally minimalistic. Totally cool. The first thing I noticed on the display was Kendall's signature, which immediately had my mind going, What is this? Is this cool? I need to play with these things. So I started to play around with almost every product.
One of the first products I automatically went to is the Pore Vanishing Stick. It's basically a primer, in stick form. It glides on super smoothly and makes colors pop when you apply them over it. How do I know? Because I swatched the stick onto my wrist and then swatched the eyeshadows over it (which I'll get to next). This stick is one of the products I think I'll go back for.
The second product I reached for is the Edit Eyeshadow Palette. In my opinion, there's nothing real special about the shadows in the palette. They looked pretty standard. The pigment was pretty nice, but it showed up a lot better over the Pore Vanishing Stick than they did when watched onto bare skin. These colors will be nice for taking looks from day to night or for layering the colors, but other than that, if you have colors similar to these like I do, then don't rush out to get it. I think the packaging on this palette looks cheap, but that's just my opinion.
The Lip Flip Shade Transformer. I'm pretty excited about these. There's a black one and a yellow one. The black one is supposed to darken colors, they yellow brightens them. Unfortunately I didn't try these on my lips (I had an amazing lip combo on today), but I did try them over some of the lipsticks in the collection and they did actually look really cool. I didn't think they'd actually do anything, but they sure did. I'm going to go back to Sephora to play with these again, but I think I might buy the black one. I want to try it over a baby pink and see if it turns it like a desaturated rose color.
I really wanted to like the Edgiest Kohl Shadowstick. I really did. But I just totally didn't. Maybe it was because it reminded me of that heavy eyeliner look when I was in middle school to high school. I'm not sure. But I feel like if you're going to buy a shadow stick, get the $9 one from NYX, not the $22 one from this collection.
The Flash Photo Powder and the Flash Photo Gloss had me thinking all about those nights out that you want to look extra good for because you know you and your girls take lots of photos. I didn't want to look like a dork in the store, so I didn't put it on my face and snap a selfie, but I did swatch them on my hand and hold them up the the ring light in Sephora and they illuminated beautifully. They had this super cool blue tint which will make your teeth look white and your skin glow. I'd be careful about putting the power all over my face though. Personally I'd only put the powder in the places that I highlighted in order to keep from looking washed out in photos with flash.
I did swatch other things in the collection, but this would be a super long post if I explained everything, and I know you Millennials would not read it all anyway. The items I wrote about were just the ones that really stood out to me, but I did play around with all of them. One of the items I wanted to buy but didn't is the Overnight Water Pack. It's a lotion that's super hydrating for your face, but I couldn't get myself to spend $50 on a cream I didn't do my homework on yet. So I'm going to go do that now. If anyone's tried the Overnight Water Pack, let me know if it's worth it! Thanks for reading!